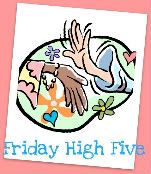 Time for Friday High Five!
Come join in the fun....please!Make a list of 5 things ~ ANY five things you want! 5 favorite things, Top 5 Vacation spots, 5 most embarrassing moments, 5 favorite pics, 5 reasons to not pick your nose......A LIST OF ANYTHING YOU WANT IT TO BE....funny, serious, sentimental, to dos, pictures, no pictures ~ anything!
To see my Friday High Five posts for examples, click
her
e!
Post about it, linking back to me (now you can copy and paste the HTML at the bottom of this post for a button!) then sign Mr. Linky!Please use the Friday High Five URL post in Mr. Linky's URL section instead of your blog URL and here is how: write the post, publish the post, go to edit posts, VIEW the High Five post, copy the URL in the address portion at the top of the screen then paste it in the URL section of Mr.Linky!!
Sounds complicated but it isn't too bad!If you need help, let me know in the comment section!Go view all the other High Five posts and comment away!
Have fun!
5 REASONS I AM SOOOO EXCITED FOOTBALL SEASON HAS STARTED
5. Pictures, pictures and more pictures!!
4.
I get to get OUT of the house for about 2 hrs on 3 nights a week for practices!! Generally, last year I didn't enjoy practice but after 4.5months of unemployment and 3 months of summer home with the children MY OUTLOOK HAS SERIOUSLY CHANGED!! SERIOUSLY folks if I am willing to sit in 100 degree heat to watch kids practice football!
3.
I missed all my football friends. We got really lucky last year and had a drama free football family. We all get along so well and LIKE to spend time together!!
2.
I love watching Elijah do something that he both enjoys and excels at......I love that kid!! It amazes me how dedicated he is at such a young age but he really LOVES playing. He has been talking about football season all summer. I can't even begin to count how many times this boy has watched his DVDs of last season in anticipation!!
Most of my day consists of me saying, "don't hit, stop running in the house, quit teasing the dog, stop fighting, Isaiah quit whining, I'll get you a drink in a minute, Isaiah quit crying, take a shower, stop running in the house, Isaiah quit whining, stop fighting, I am fixing dinner, stop fighting, you are not going to starve, Elijah for the final time GET IN the shower, quit running, quit fighting, quit yelling, don't touch each other, look at each other in fact let's just all go in different rooms for a little while" in between being a referee, doing the dishes, cooking the next meal or starting the next load of laundry.
ALL DAY
,
EVERYDAY
I HEAR: boys fighting, boys jumping on beds, boys running through the house along with "MOM, Isaiah did ......(insert one of the many things he does in a fit of rage)......OR Mommy, E-why-jah did.......(insert one of the many things Elijah does to torture Isaiah)......Mom I am hungry, Mom I am thirsty, I am bored, can I go outside, can I ride my bike, why don't you work anymore........" Oh the misery!!
SOOOOOOO......was I excited to start football to spend 2 hrs. with my girls?
I
♥
my group of football moms. We all get along. We laugh and talk and