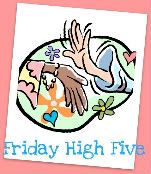 Time for Friday High Five!

Come join in the fun....please!Make a list of 5 things ~ ANY five things you want! 5 favorite things, Top 5 Vacation spots, 5 most embarrassing moments, 5 favorite pics, 5 reasons to not pick your nose......A LIST OF ANYTHING YOU WANT IT TO BE....funny, serious, sentimental, to dos, pictures, no pictures ~ anything!

To see my Friday High Five posts for examples, click here!
Post about it, linking back to me (now you can copy and paste the HTML at the bottom of this post for a button!) then sign Mr. Linky! Please use the Friday High Five URL post in Mr. Linky's URL section instead of your blog URL and here is how: write the post, publish the post, go to edit posts, VIEW the High Five post, copy the URL in the address portion at the top of the screen then paste it in the URL section of Mr.Linky!!

Sounds complicated but it isn't too bad!

If you need help, let me know in the comment section!

Go view all the other High Five posts and comment away!

Have fun!
After the past two weeks, I need to remember to be thankful and positive. Chaitra's Grandfather passed away and she had to go to Michigan. My Mom and Dad were in Branson. My Mom normally watches Addison during the day but since both her and Chaitra were gone I had Addison for 11 hours a day for 4 days. Normally, this would not be an issue but Elijah had croup, Isaiah had bronchitis and Addison was teething and NOT happy for 3 out of the 4 days! Wow that was a trial and a half! Easy to forget about the little things when you no longer have a baby. You know like changing her in the front seat of the car because she has diarrhea and you have to go to the store. The fact that this was the third dirty diaper in 45 minutes and she is NOT happy! This was topped by Chaitra rolling and totaling her SUV on her way home with her brothers and finding out a very close family member is getting divorced. Then there was the trip to the ER, the trip to Urgent Care, thinking my parents' dog was going to have her puppies while they were gone *gag*yuck*, the basketball draft, football practice, playoffs, running over a football helmet (I will post this funny story later I promise!), my child getting his head run over by a bike (another funny one) and the ever looming job hunt. So right now, today, while everything is calm I am being thankful very very thankful, in fact, for my life and the people in it! I will save the rest of the news for later but for now here is


my Friday High Five...

5 things I am looking forward to
5.

Basketball -
I am looking forward to an indoor sport!! Now that football is over....*sniff*sniff*....Elijah needs something to look forward to instead of his current "football is over?!" sadness.
4.

Football tournament -
Elijah is on an All-Star team and will be in a tournament. Hoping this too will help the football season ending sadness. It is good to know that he loves what he does and I believe that is why he is so good. Can't wait to see him hit again. He is truly a joy to watch!
3.

Thanksgiving -
Love the holidays, love the food, love time with family and am a passionate Black Friday shopper. Can't wait! I wish I had more money to spend on Black Friday but I will enjoy myself anyway. I also love that this is my birthday weekend. Now that I am older birthday's pretty much suck because they seem just like another day but I am still looking forward to it regardless.
2

. Christmas -
Hard to get in the Christmas spirit when it is in the 70s outside but I love love love Christmas time! Love the reason and the season! Need to start some shopping!!
#1
This is something I have been waiting and waiting for since April 2nd of this year.......

can you guess???



A PAYCHECK!!



WOOHOO!!

THAT IS RIGHT FOLKS......
I GOT A JOB, I GOT A JOB, I GOT A JOB HEY, HEY, HEY, HEY!!

Are you singing along like in the Little Rascals?

I can't wait! I start on Tuesday and won't actually get paid until December but at least it pays!! I will be working at a Lasar Eye Clinic and everything will be new to me so pray for me!

Hey did I mention?

I GOT A JOB


I GOT A JOB




I GOT A JOB




HEY, HEY, HEY, HEY!!!