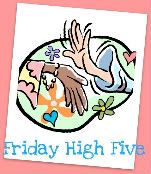 Time for Friday High Five!

Come join in the fun....please!Make a list of 5 things ~ ANY five things you want! 5 favorite things, Top 5 Vacation spots, 5 most embarrassing moments, 5 favorite pics, 5 reasons to not pick your nose......A LIST OF ANYTHING YOU WANT IT TO BE....funny, serious, sentimental, to dos, pictures, no pictures ~ anything!

To see my Friday High Five posts for examples, click
here!
Post about it, linking back to me (now you can copy and paste the HTML at the bottom of this post for a button!) then sign Mr. Linky! Please use the Friday High Five URL post in Mr. Linky's URL section instead of your blog URL and here is how: write the post, publish the post, go to edit posts, VIEW the High Five post, copy the URL in the address portion at the top of the screen then paste it in the URL section of Mr.Linky!!

Sounds complicated but it isn't too bad!

If you need help, let me know in the comment section!

Go view all the other High Five posts and comment away!

Have fun!

5 MORE "DON'T YOU HATE IT WHEN"..........
5.
Don't you hate it when
your kid has to poop each and every time you arrive for speech therapy only to realize after sitting there for five minutes that he just needed to fart! EVERY SINGLE TIME
!
4.
Don't you hate it when
you need to go pee but you are too busy and far from the bathroom until you turn the washer on, quickly slam it off because that sound of rushing water has turned that urge into an necessity!! You high tail it to the bathroom since those two pregnancies and c-sections for those kids of yours did nothing positive for bladder control!
NOTHING!
3.
Don't you hate it when
you just sit down to pee and your son busts into the restroom with the sentence, "Now I am not sure what happened Mommy but just remember it was an accident!" with his brother wailing in pain in the not so far distance! Like an alien took over his body and he couldn't control his legs from jumping on the couch with his brother who fell and hit his head on the corner of the coffee table!! Two seconds......can I just have TWO seconds to pee!!
2.
Don't you hate it when
you take a drink with you in the car and never take a sip THEN you throw out the drink, put a snotty baby wipe in the cup then ask your child to carry it in and put it on the kitchen counter when you get home. THEN you fill the cup and drink from that cup all evening until you realize five hours later while drinking that you forgot to throw out the snotty baby wipe before using that cup.....gag...gag!! Yep there it is just sitting in there marinating in your fruit punch!! Mmmm.......don't say you don't hate that or you haven't done it because I will feel stupid! Just say you "would" hate it!!
Don' you hate it when you pull in the driveway and while gathering your belongings to take into the house you can NOT find your phone! You look and look and tear the car apart! You say, "What did I do with it?" Just then your sister says through the phone being held ON YOUR EAR by your shoulder, "Do with what? What are you looking for?" Oh nothing! It is almost like I am incapable of learning IT IS ON MY EAR since I do this quite often! I totally should NOT have admitted to this!