I SCHEDULED THIS TO POST LAST NIGHT BUT ENTERED THE WRONG DATE!! OOPS!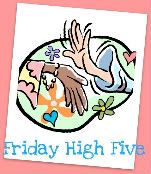 Time for Friday High Five!

Come join in the fun....please!Make a list of 5 things ~ ANY five things you want! 5 favorite things, Top 5 Vacation spots, 5 most embarrassing moments, 5 favorite pics, 5 reasons to not pick your nose......A LIST OF ANYTHING YOU WANT IT TO BE....funny, serious, sentimental, to dos, pictures, no pictures ~ anything!

To see my Friday High Five posts for examples, click
here!
Post about it, linking back to me (now you can copy and paste the HTML at the bottom of this post for a button!) then sign Mr. Linky! Please use the Friday High Five URL post in Mr. Linky's URL section instead of your blog URL and here is how: write the post, publish the post, go to edit posts, VIEW the High Five post, copy the URL in the address portion at the top of the screen then paste it in the URL section of Mr.Linky!!

Sounds complicated but it isn't too bad!

If you need help, let me know in the comment section!

Go view all the other High Five posts and comment away!

5 THINGS I LEARNED ABOUT OCTOBER
We all know....or at least you should by now......that October is Breast Cancer Awareness month but you all know I like looking up things at
Holiday Insights
esp the Bizarre and Unique Holidays. Here is what I found out about October as a month
.
5.
Adopt a Shelter Dog Month
........I have a rather strong opinion about this idea. If a dog was let's say lost, then I have no problem with adopting it BUT most of the time the dogs are there for a reason. I know, I know you all are going to hate me BUT people take dogs there for many reasons. Sure there are reasons like they can no longer afford to care for the dog properly or they are unable to spend time with the dog but they could be there for chewing everything in sight, not being potty trained, hyper or maybe they bite. I am not saying never adopt a dog because they all need a home but I am saying you never know what you are getting into....be careful! Yes, I know abused animals are there too and they need serious love but be careful around your children since these animals will be frightened at a mere jump or playful scream! Enough of that moving on..........
4.
Cookie Month
.........
WOOHOO!
I love cookies! I love chocolate chip oatmeal cookies! I love snickerdoodles! I love oreos! I love butter cookies! Ooooooooo.....the other day Chai brought over a batch of cookies and NO she did not make them her friend did but they were the BEST!! Soft!! Mmmm.....I can taste them now! They were chocolate chip peanut butter.......wow they were good! I will have to see if I can get some more of those or maybe the recipe!
3.
National Pizza Month
........I love pizza too! Don't know why I am fat between the pizza and the cookies! Ha! Anyway I love pizza with jalapenos on it! I love pizza with those little red pepper things on it! I love pizza without sauce! Yes, you read that correctly! Esp Dominos Extravaganza pizza with NO sauce!! Often times when ordering pizza without sauce you have to repeat it several times because they think you are nuts!! Most of the time we make our own pizza. The kids get to help and it is oh so good and super duper cheap!
2.
National Diabetes Month
........this is important to us since Hubs, my Father, my Grandmother, a few friends and two of Elijah's little friends have diabetes. Check yourself! Just because you pass one glucose test per year does
NOT
mean you do not have diabetes! I could go on and on about this topic. I believe the doctors should test patients twice within one week every 6 months if a patient has a family history of diabetes or many of the warning signs. If you have recently been diagnosed with diabetes or have lived with it for years, I
urge
you to take a diabetes education course. Most hospitals can tell you where to find one close to you! You will learn so much and most will offer an update course every year so you can learn new info since the medical field learns something new everyday! It is a manageable disease with so much to learn. Information is key to the disease in my eyes! Diabetes should be considered an awakening not a death sentence!
Last but certainly not least......

October is Sarcastic Month!

Woohoo!

Finally, a month for my family, friends and I to honor in our God given talent!