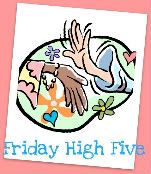 Time for Friday High Five!

Come join in the fun....please!Make a list of 5 things ~ ANY five things you want! 5 favorite things, Top 5 Vacation spots, 5 most embarrassing moments, 5 favorite pics, 5 reasons to not pick your nose......A LIST OF ANYTHING YOU WANT IT TO BE....funny, serious, sentimental, to dos, pictures, no pictures ~ anything!

To see my Friday High Five posts for examples, click here!

Post about it, linking back to me (now you can copy and paste the HTML at the bottom of this post for a button!) then sign Mr. Linky! Please use the Friday High Five URL post in Mr. Linky's URL section instead of your blog URL and here is how: write the post, publish the post, go to edit posts, VIEW the High Five post, copy the URL in the address portion at the top of the screen then paste it in the URL section of Mr.Linky!!

Sounds complicated but it isn't too bad!

If you need help, let me know in the comment section!

Go view all the other High Five posts and comment away!

Have fun!


5 decisions from this past week
5. If Moose won't runaway on his own, then he may need help! He is an idiot after all!
4. Breathing through the nose would be a great idea!! I would love love love to be able to breathe through my nose! My nose has failed me yet again folks or maybe it is this allergen ridden state!
3. No insurance...sucks! No job....sucks! Doctors cost too much money! I need a job like NOW to save my sanity!
2. That noise in my car is not going away but in fact getting louder! Hmm.....

#1
I think my second grade son has too much homework! That or we have too little time! The entire second grade is on the same plan but for some reason my son doesn't understand why he has to go to school all day then do homework every night! Hmm......I wonder what the other mothers think?