Elijah is a nature boy!
He is always catching
moths, butterflies
,
ladybugs
,
roly
polies
and frogs basically if it crawls, jumps, flies or hops and it is
supposed
to live outside, it ends up in his hands and into our home!
I hate fully support his love of all things nature even when he is uprooting the ugly railroad ties beautiful edging surrounding my flower beds in search of bugs to kill by taking them out of their natural habitat keep in one of his many bug houses!
One thing you can count on with Elijah is IF he isn't searching through dirt or bushes for random creatures then he is in a tree somewhere!!
Once spring starts this boy is outside more than he is inside. He catches hundreds of frogs insisting to keep each one. I totally manipulate the situation remind him that Steve Irwin would want him to release the creatures back into the wild and after quite an argument by him that this one will live he usually gives in.
He even trains them to do the ever elusive hop over my hand trick which coincidentally frogs are quick to learn after a little nudge on the rear!!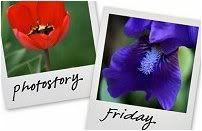 Hosted by Cecily and MamaGeek