I haven't done Photostory Friday in awhile even with my best intentions so this week I AM DOING IT! While I had this post planned because spring is on the way, our forecast for tomorrow is snow! Seriously! Ugh.....I hate winter! Where is that stupid groundhog? Has he ever predicted an early spring? Just when the 70s and 80s were settling in, I began to wear flip flops and the boys sported their shorts....
.....days of wind, rain, cold temps and NOW snow!
Gotta love Oklahoma weather!
Welllll I was anticipating spring and getting ready to clean up the yard and prepare it for flowers in the next few weeks but now I will be behind closed doors until all remnants of winter have dissolved!!
The boys love to help with the flowers.
Isaiah has loved to water the flowers since he learned to walk.

I don't know if he justs likes getting wet......
....or drinking from the hose!!

He makes sure to get each flower!
He just loves to take care of the flowers!
Come join in on the Friday High Five fun too!
For more Photostory Friday posts, click below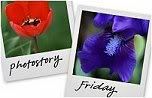 Hosted by Cecily and MamaGeek