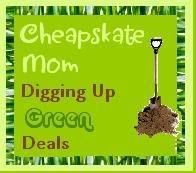 Cheapskate Mom is doing her first giveaway today!
In my effort to go green, I think it would be a great win for me so I am posting to promote her giveaway and to get me more entries....hehehe!! Hey give a girl a break I NEVER win ANYTHING!!!
She is giving away a Living Home Starter Kit by Seventh Generation!! OOOoooo Awwww!