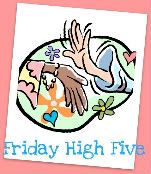 Time for Friday High Five!


Come join in the fun....please!Make a list of 5 things ~ ANY five things you want! 5 favorite things, Top 5 Vacation spots, 5 most embarrassing moments, 5 favorite pics, 5 reasons to not pick your nose......A LIST OF ANYTHING YOU WANT IT TO BE....funny, serious, sentimental, to dos, pictures, no pictures ~ anything!

To see my Friday High Five posts for examples, click
here!
Post about it, linking back to me (now you can copy and paste the HTML at the bottom of this post for a button!) then sign Mr. Linky!Please use the Friday High Five URL post in Mr. Linky's URL section instead of your blog URL and here is how: write the post, publish the post, go to edit posts, VIEW the High Five post, copy the URL in the address portion at the top of the screen then paste it in the URL section of Mr.Linky!!

Sounds complicated but it isn't too bad!

If you need help, let me know in the comment section!

Go view all the other High Five posts and comment away!


Have fun!
5 reasons I went to Springfield for the day yesterday
5.
My Uncle's dog had puppies and my sister bought one so we went to pick it up!
4
. TO GET OUT OF THE HOUSE
3.
Adult conversation ~ the four boys played, watched movies and ATE (that is a whole other post!!) while my sister and I talked and talked the whole way there and the whole way back!!
2. To take Grandma to put her jewelry in her safe deposit box. Since the whole tornado ordeal when she broke her pelvis she is paranoid that a tornado is going to carry her and the house away with her jewels in it! Since her bank is right by my Uncle's house I took her there. I listened to her stories about EVERY piece of jewelry. I now know who bought each piece, who gets it when she dies, when she got it and why and what each piece is made of.....wow....and the vault was so hot!! The funny thing is ~ she put the jewelry in the safe deposit box but the list saying who gets what and the meaning of the jewelry she is keeping at the house. Pretty much negates the purpose if you ask me but oh well maybe I'll remember just a portion of what she told me!!
I love my Grandma and wish she was right here! Even though I saw her about a month ago and I talk to her weekly, I just wanted to see her and the boys did too! They love their Grandma "Souri" ~ that is what they call her ~ not Grandma, not Great Grandma, not Grandma Bryan, not Grandma Donna but Grandma "Souri" pronounced Zuri since well.....she lives in Missouri. She doesn't mind and I think she kind of likes that they made a name just for her and have stuck with it for so long ~ it makes her even more special.