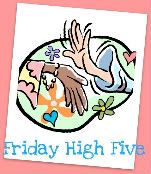 Time for Friday High Five!

Come join in the fun....please!

Make a list of 5 things ~ ANY five things you want! 5 favorite things, Top 5 Vacation spots, 5 most embarrassing moments, 5 favorite pics, 5 reasons to not pick your nose......A LIST OF ANYTHING YOU WANT IT TO BE!

To see my Friday High Five posts for examples, click
here
!

Post about it, linking back to me (now you can copy and paste the HTML at the bottom of this post for a button!) then sign Mr. Linky!Please use the Friday High Five URL post in Mr. Linky's URL section instead of your blog URL and here is how: write the post, publish the post, go to edit posts, VIEW the High Five post, copy the URL in the address portion at the top of the screen then paste it in the URL section of Mr.Linky!!

Sounds complicated but it isn't too bad! If you need help, let me know in the comment section!

Go view all the other High Five posts and comment away!

Have fun!
5 things I wish I would have said NO to ~ volunteering regret
5.
I helped with two valentines class parties in a matter of hours. First with a class of three years old who passed out TONS of valentines ONE BY ONE but ONLY ONE child passing them out at a time. Talk about snail speed! Then off to a class of first graders coming in from recess and on a serious sugar high. In total I spent about four hours with almost 40 kids hyped up on excitement and mass quanities of sugar. This is truly not recommended for those close to insanity or those who do not like loud enclosed spaces full of mindless chatter!
3.
Being team Mom of our basketball team.....guess who will never volunteer to be a Team Mom EVER again!!
2.
The 1st grade field trip to Bounce U ~ the smell of 100 bare feet and "kid sweat" was enough to make me want to gag!
I spent almost 12 straights hours cleaning yesterday. NO my house is not that of a pack rat nor is it filthy. Most of the cleaning was unnoticeable for instance cleaning out inside of cabinets and about a billion other things that you don't do routinely PLUS a ton of routine cleaning!
I have plantar faciitis and no that is not plantars wart but instead some tendon ordeal. The only part I understand completely about the condition is it is extremely painful at times. I am in some major pain that is due to being either barefoot or wearing flip flops that I am not supposed to wear while walking around this house a billion times over the 12 hr cleaning extravaganza. You can not tell a person who loves being barefoot or in flip flops not to do that when I've done it my whole life. It sucks! This is making me seriously regret volunteering for Super Kids Day tomorrow at Elijah's school ~ kind of a miniature track and field kids running wild event. I so don't want to help tomorrow but in my effort to be the "involved parent" I plan on being I get a bad case of "Yes Syndrome"! If asked to volunteer at one of the schools, I become the world's worst liar and can't think of any reason not to volunteer until after I've said Yes! Lord, help me!!

Don't forget to grab my handy dandy little button for your post!!