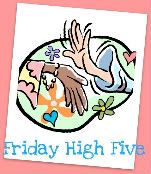 Time for Friday High Five!

Come join in the fun....please!

Make a list of 5 things ~ ANY five things you want! 5 favorite things, Top 5 Vacation spots, 5 most embarrassing moments, 5 favorite pics, 5 reasons to not pick your nose......A LIST OF ANYTHING YOU WANT IT TO BE!

To see my Friday High Five posts for examples, click
here
!

Post about it, linking back to me (now you can copy and paste the HTML at the bottom of this post for a button!) then sign Mr. Linky!Please use the Friday High Five URL post in Mr. Linky's URL section instead of your blog URL and here is how: write the post, publish the post, go to edit posts, VIEW the High Five post, copy the URL in the address portion at the top of the screen then paste it in the URL section of Mr.Linky!!

Sounds complicated but it isn't too bad! If you need help, let me know in the comment section!

Go view all the other High Five posts and comment away!

Have fun!
First I want to apologize to last week's players! I ALWAYS READ YOUR POSTS AND APPRECIATE YOU PLAYING ALONG! I also always comment! I did read your posts; however, I had a few computer problems throughout the weekend. It kept freezing up or telling me something about some server something THEN shut down internet explorer!! Yes those are all technical terms (I am highly technical after all! lololol) so I am sorry if you don't understand! I fixed everything (I believe!) and planned to go back to comment BUT this week has been crazy with a birthday party, Ordination ceremony, Memorial Day cookout, school awards ceremonies and too many end of year school activities so needless to say I did NOT get back to comment! Sorry about this and I will get to your posts/comments this weekend I promise PLUS I have a ton of blogging to do so stay tuned!! Love ya'll!
5 great things about my day yesterday
5.

I woke up and realized it was the boys' last day of school! Elijah is a BEAR to get up in the mornings......don't know where he gets it! I am so looking forward to him waking up ON HIS OWN and well I like to sleep in so this is good too!! I might change my mind about the "being home for the summer" thing so stayed tuned for many moments of me wishing he was back in school!!
4.

A picnic with 500 summer crazed students.......sounds crazy but I had a blast!! More on that to come soon......
3.

I took the kids home from school early then took them to the park to play until we had to pick up Tez. THEN we went home and played outside for 3.5 more hours!
2.

Going through Elijah's yearbook with Elijah and Avani ~ they CRACKED ME UP! Their stories were priceless! More on this coming soon too......
TODAY'S WEATHER WAS AMAZING!!!!!
WARM NOT HOT WITH A GREAT BREEZE ALL DAY LONG AND NO RAIN!!!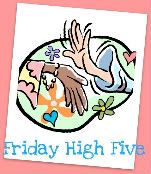 Mr. Linky has been having issues all week so

if

it doesn't work leave a comment and I will visit you that way! This is the temporary widget to use...stinks I know!! OK CLICK ON THE IMAGE BELOW THEN A POPUP WINDOW WILL COME UP WITH THE NORMAL ENTRY FORM! Sorry for the confusion but you will have to take that up with Mr. Linky!!