According to Holiday Insights Bizarre and Unique Holiday list, TODAY is national High Five day SO in honor of that I am posting this evening!!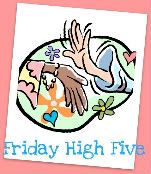 Time for Friday High Five!
Come join in the fun....please!

Make a list of 5 things ~ ANY five things you want! 5 favorite things, Top 5 Vacation spots, 5 most embarrassing moments, 5 favorite pics, 5 reasons to not pick your nose......A LIST OF ANYTHING YOU WANT IT TO BE!
To see my Friday High Five posts for examples, click
here
!

Post about it, linking back to me (now you can copy and paste the HTML at the bottom of this post for a button!) then sign Mr. Linky!
Please use the Friday High Five URL post in Mr. Linky's URL section instead of your blog URL and here is how: write the post, publish the post, go to edit posts, VIEW the High Five post, copy the URL in the address portion at the top of the screen then paste it in the URL section of Mr.Linky!!

Sounds complicated but it isn't too bad! If you need help, let me know in the comment section!

Go view all the other High Five posts and comment away!

Have fun!
5 signs you might need to lose weight
5. You weigh the same as you did when you gave birth but it has been years since then!
4. Your clothes in the closet no longer fit you and you are on a strict t-shirt and jeans wardrobe simply b/c that is all that fits you! Your belly button is hurting from the button on your favorite pair of jeans!
3. Jiggling ~ enough said!
2. Having to count your chins! Any number higher than ONE is a sure sign!
#1
Trying on clothes brings on bouts of depression and you cry on the way home!
While in the dressing room trying on a cute dress for Easter, you realize you can't get the dress off! It went on so easily, actually doesn't look bad and fits but it won't come off! You begin to panic and wonder if you need to buy the dress and tell the clerk you must wear it out for an event! You finally find a hidden zipper and breathe a sigh of relief only to find it is about two inches long and doesn't help a bit when unzipped! Tears well up in your eyes and you are in between crying, anger and laughter! It is a pure act of God that you finally get the dress over your head in one piece then quickly leave before the tears flow!
P.S. While looking through my blog, I found a few Friday High Fives you all might enjoy and probably haven't read since I had like NO followers back then! They are here and here!


Now you can get this button for your post or sidebar!!
Simply copy the code in the text box and paste it in your post or sidebar! Woohoo! I'm movin' up!