I absolutely love to watch my three loves together! Whether playing, sitting, cuddling, singing or sleeping, I NEVER get tired of it. I love pictures of the three of them together! This is BY FAR my most favorite:
In June of 2005, I took this picure. Isaiah was 1 month old and Elijah was 3 1/2 yrs old and I never get tired of looking at it. I miss the days of having a new baby in the house and I will probably never experience it again but this picture takes me back every time. I was in the kitchen and when I came out to the living room they were just like this watching Tom and Jerry. I ran and by "ran" I mean post-very painful and eventful-much worse the the 1st c-section-2nd-c-section-still-carrying-baby-weight-tummy shakes like jello-speed-walk to get the camera then the smiles and waalaa.....in love! Many more "3 loves" sleeping, playing, cuddling shots later I got my next favorite...
This was June 2007 after Martez and I came back from Nashville to attend Chai's wedding. It was our first time to leave the boys and go on our OWN mini vacation. NICE! When we got back you would think the boys grew suction cups and stuck themselves to us at all times! But when you catch a moment like this......who cares if they have suction cups for hands! Many many more "3 loves" sleeping, playing, cuddling shots later I got my NEW favorite picture....

....taken Fall of 2008! Now Isaiah is three and Elijah was six. I thought the house was awfully quiet and went to see what was going on. You know there is trouble when OUR house is quiet! NOT this time! I found my three loves cuddled up asleep in my chair while attempting to watch a football game!
I love these moments!
For more Photostory Friday posts: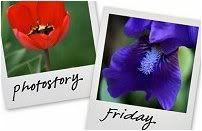 Hosted by Cecily and MamaGeek